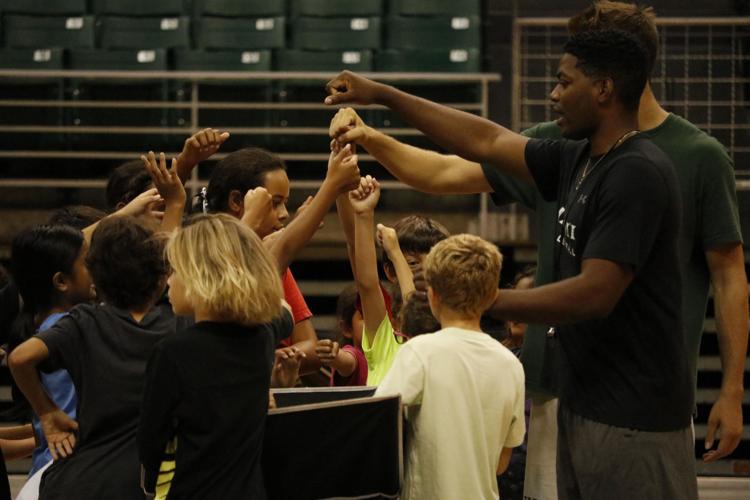 As the University of Hawaiʻi at Manoa men's volleyball assistant coach offers the ball to the young campers, they zealously shout for the limelight. For a hasty moment, they chant to him in a similar manner: "I want it, [the ball]!" And while a number of them revealed they don't plan on playing the sport in the future, it's difficult to not notice the ardor and fun they had at the event. That was the essence of the camp.
The Rainbow Warriors Volleyball Camp is hosted at Stan Sheriff Center and open to various age groups, from fourth grade to twelfth grade, and skill level, from beginner to advanced. The emphases in the camps are to provide both individual training to each camper and an array of all abilities needed in the sport. 
Assistant coach Joshua Walker, class of 2011, is a former UH Manoa volleyball player who graduated from the university in 2011. He has received numerous awards, including the 2014-2015 All-Star in Finland Volleyball League for his performance as an outside hitter, due to his consistent kills and offensive pressure.
While the camp is known to be intense for adolescents, there was a relaxed nature with the kids in the arena. Walker clarifies that most of them are beginners, and what he and his staff try to focus on is giving them a feel for the sport.
Rainbow Warrior middle blocker Dalton Solbrig was also there assisting Walker. He stated this being his first year being involved in the camp and how enjoyed teaching the youth, for it reminded him of when he started playing the sport.
"I love teaching kids volleyball, especially [at] this age [where] they're kinda just starting to play, so you can go back to teaching the first skills that you learned. It's nostalgic for volleyball players…" Solbrig stated.
Solbrig returned from the 2018-2019 volleyball season when he and his team nearly dominated and broke National Collegiate Athletic Association (NCAA) records for most wins, longest win streak and longest set win streak. The team took second at the NCAA Division I Championships, its first appearance since 2002.
Some of the campers expressed their fondness of the camp. Kekoa, third grade, showed interest in the sport and also said how it is good for him to follow in his family's footsteps since his parents and siblings played volleyball. He, along with some of the other kids, talked about the staff, program and some of the harder skills to learn such as serving and passing the ball.
"The coaches are really fun… and they're really nice to us. If we mess up, they say 'it's okay,'" Kekoa added.
"To have kids that are this excited about just coming and trying to play volleyball is a huge deal. You don't get this in too many places in the U.S.," Walker explained. 
There are three other camp dates still available to register for, along with technical sessions, all in the upcoming July. Walker and Solbrig overall hope for youths to come out ready to learn and experience the pleasure they had when they first began their volleyball careers.