Barb Trammel is ruthless in her recruitment of granny basketball players.
"I'll walk around Wal-Mart and hand out business cards to anyone who looks around the right age," said Trammel, 72, president of the Granny Basketball League.
"She likes tall," added player Lu Miller, 62.
"That's right," Trammel agreed. "Tall gray-haired ladies."
Trammel, of De Soto, a childhood player and daughter of a basketball coach, formed the Granny Basketball League in 2005 while living in Lansing, Iowa, and after overseeing the formation of 30 teams in nine states, Trammel and fellow enthusiast Linda Schmitz, 64, of La Crosse are helping bring the 1920s-era "gentle game for women of a certain age" to the Coulee Region.
Six women ranging in age from mid-50s to late 70s currently comprise the La Crosse team, which began recruiting members last spring and holding practices in June. The team is looking for more players, who must be 50 or older, and will vote on a team name before the season officially starts in January. The team also selects a charity to support through fundraiser and exhibition games, with a state tournament in June and national tournament in July.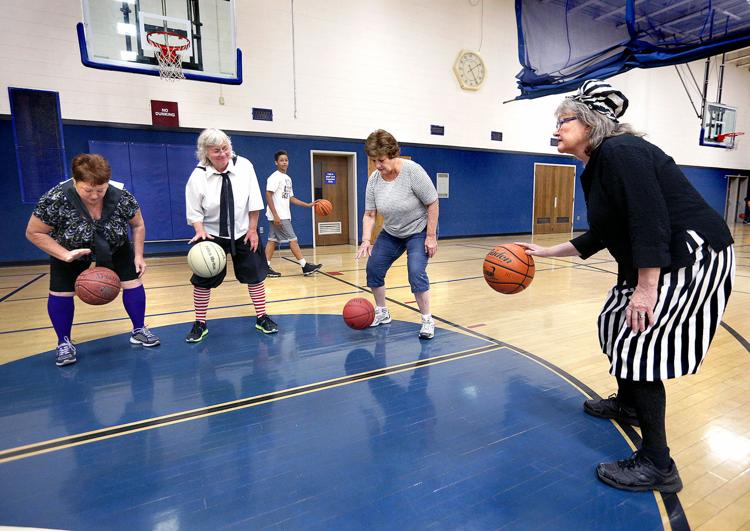 Granny basketball — named for the granny shot, an underhand toss — is played with no running, jumping or contact allowed, rules formed in the 1920s to address unfounded concerns about stamina and inadvertently harming the reproductive organs through intense activity. Today, the rather docile guidelines of the game make the sport a good fit for both novice and experienced seniors looking to be active without overexerting themselves. Trammel estimates 30 percent of players have no prior experience with basketball, and most are accustomed to typical basketball rules.
In granny basketball, hurrying and two dribbles per possession are allowed, and if a player falls, everyone must shout "granny down" and pause the game until she is able to resume. In addition, a modest uniform of bloomers, middy blouses with sash collars and knee-high socks are required.
The regulation outfits, crafted by a seamstress in Lansing, could be described as sailor on the top, pirate on the bottom and received mixed reviews. Schmitz calls them comfortable, Miller notes "they'll probably grab an eye" and player Sandy Whiteman, 68, of Onalaska, describes them with a hesitant, "eh …"
"I stopped at Wal-Mart after practice and a man asked, 'Are you an elf?'" Trammel laughed of her uniform, which, as interim coach, includes a puffy, Martha Washington style bonnet. "I like the uniforms — you can't show any flesh so you can't see any flabby parts."
The ensembles certainly catch the attention of fellow patrons at the Dahl YMCA, where the women practice weekly, as does the sight of a gaggle of senior women shooting baskets.
"I think the younger kids kind of watch over us, and some of the boys just jump in and shoot a basket," Miller said. "But I think sometimes they think they're going to hurt us."
"We tried to pick a guy up last week," Schmitz noted.
"He was just walking around shooting baskets," Trammel explained. "We said, 'You can play with us.'"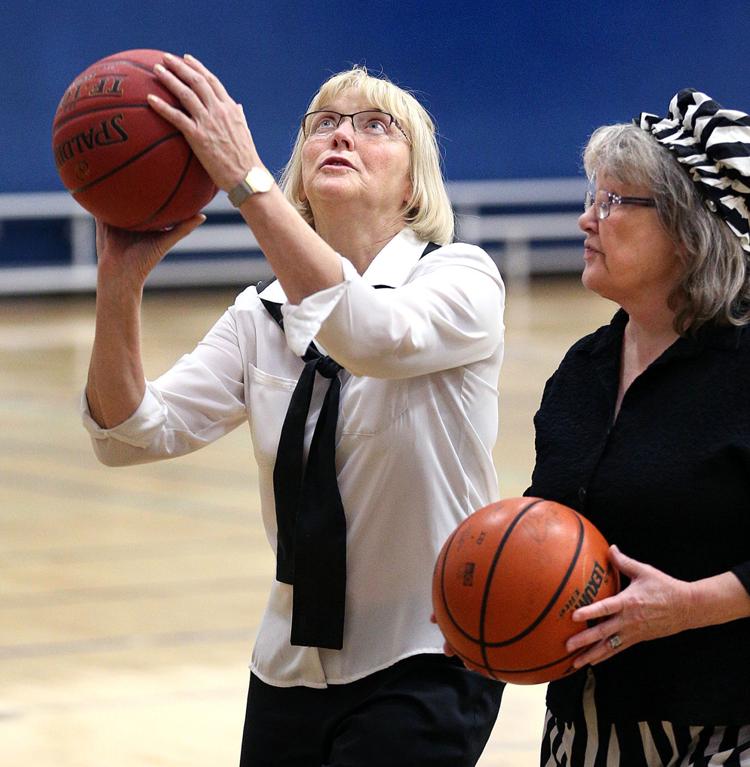 Camaraderie and enthusiasm are key components to granny basketball. The competitions are friendly, the anthems (including "We Don't Look Good Naked Anymore") are silly, and family is often included, with spouses serving as scorekeepers and grandchildren as cheerleaders. Whiteman's grandsons have offered to give her pointers, and Miller says her grandkids are "tickled pink" to see her on the court.
The team will have its first game in front of an audience at 2 p.m. Sunday, Oct. 22, when it plays against local firefighters at Summit Elementary School to raise funds for the Campbell Fire Department. Trammel assures the game will be entertaining.
"People just can't visualize 80-year-old women playing basketball — they have to see it," Trammel said. "People really are amazed."
For more information or to join the La Crosse granny basketball team, call Barb Trammel at 319-389-7174 or Linda Schmitz at 608-783-3069.