Since 2000, the NCAA men's hockey championship has been on runs of regional dominance.
Teams from the West won seven of eight titles from 2000 to 2007, including the University of Wisconsin's crown in 2006.
Then the baton was passed and teams from the East claimed seven of eight championships from 2008 to 2015.
Things have been trending back toward the West, with North Dakota and Denver adding to their decorated histories with NCAA titles in the past two seasons.
They're again among the contenders as the 2017-18 season begins. Here's a look at some national storylines.
Pioneers return strong
Winning the national championship takes the kind of talent that usually gets an opportunity to jump to the pro level in the offseason.
With 2017 champion Denver, the talent and opportunities were there but the jump was not.
The Pioneers return as a contender for a second straight national championship because they didn't lose the offensive stars of last season: Troy Terry, Henrik Borgstrom, Jarid Lukosevicius and Dylan Gambrell.
Coach Jim Montgomery also was in the mix to be the new Florida Panthers coach, but he's back for his fifth season at Denver. He won't have Hobey Baker Award winner Will Butcher of Sun Prairie on defense any more, but he does have goalie Tanner Jaillet for a fourth season.
Beasts of Hockey East?
With four first-round draft picks on the roster last season and another that went on to be picked in the opening round in June, Boston University finished in a three-way tie for the Hockey East regular-season championship and was an overtime goal away from the Frozen Four.
The high-end talent pool might be less rich in 2017-18 after defenseman Charlie McAvoy and forwards Clayton Keller and Kieffer Bellows left, but not by much.
The Terriers have three first-round picks on their roster — defenseman Dante Fabbro, forward Shane Bowers and goaltender Jake Oettinger — and forward Brady Tkachuk is projected as a first-rounder in 2018.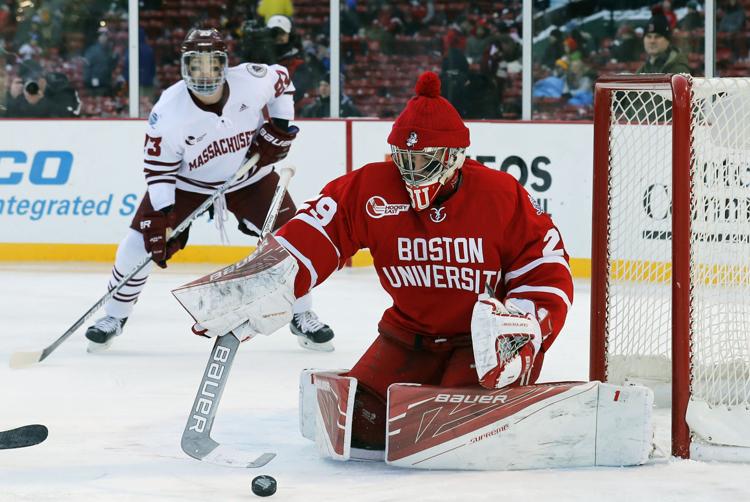 Massachusetts defenseman Cale Makar, picked fourth in June's draft, gives Hockey East four first-round picks. The Big Ten Conference (Minnesota's Casey Mittelstadt, Michigan's Josh Norris and UW's Trent Frederic) and the National Collegiate Hockey Conference (Denver's Borgstrom, St. Cloud State's Ryan Poehling and Minnesota Duluth's Riley Tufte) have three each.
Summer of transfers
UW got the most noteworthy transfer of the summer when All-American goaltender Kyle Hayton moved to Madison after three seasons at St. Lawrence.
Hayton's relocation after receiving his undergraduate degree was part of a trend that really took off this offseason around college hockey. In recent years there have been one or two graduate transfers; in 2017 there were no fewer than six.
Among the others: goaltender Connor LaCouvee to Minnesota State from Boston University, forward Drew Melanson to BU from Rensselaer, forward Niko Rufo to Massachusetts from Providence, defenseman Brett Beauvais to Robert Morris from Bemidji State and defenseman James Roll to Niagara from Lake Superior State.
Graduate transfers, where players who have completed their undergraduate degree with eligibility remaining can move to another school without the traditional year off penalty, grew by more than five times in football between 2011 and 2016, according to an NCAA study.
In men's hockey, the report showed there were no graduate transfers in 2011 and one in 2016.
Olympic auditions
With players on NHL contracts not being allowed to participate in the 2018 Olympics, the door is open for collegians to participate for the first time since 1994.
As coach of the U.S. Olympic team in addition to his role as UW coach, Tony Granato will be among those checking names at the door. So you could see UW games as in-person auditions for some players who might be under consideration.
European-based professionals and players on minor-league contracts might make up most of the American squad, but it's likely some college players will catch the eyes of Granato and Team USA general manager Jim Johannson, also a UW alum.
A hint on which players the U.S. management may consider comes in last year's World Junior Championship roster. Denver's Terry, the shootout hero for the gold medal-winning American team, could get a look. Same with Boston University forward Jordan Greenway, whose brother JD is a defenseman at UW.
Beyond the identities of those who will play for the U.S., what also remains to be seen is what impact their departure from college teams will have. The Olympic men's hockey tournament runs Feb. 14-25, meaning some college teams will be without key players for two of the final weekends of the regular season.
Recognized and returned
Besides UW, six teams have an All-American from last season on their roster.
Two of them also were Hobey Baker Award finalists last season: Minnesota forward Tyler Sheehy and Bemidji State goalie Michael Bitzer.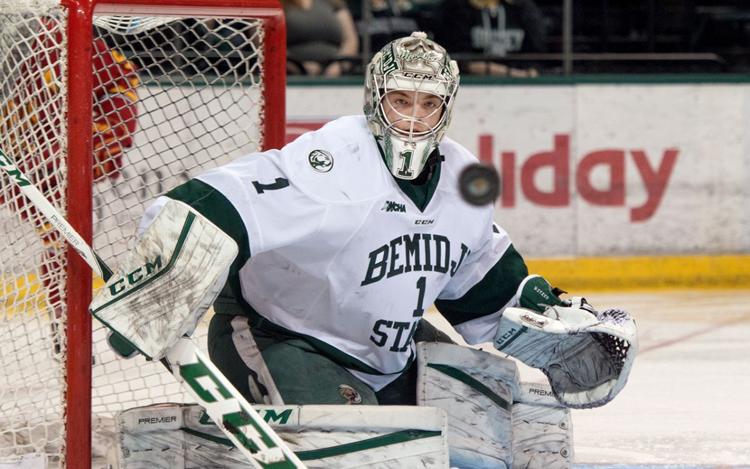 Denver's Jaillet, who won the Mike Richter Award as the top goalie in Division I men's hockey, was the second-team goalie choice from the West region last year. Teammate Borgstrom was a first-team forward.
Harvard has defenseman Adam Fox, who was a first-team pick out of the East as the Crimson made it to the Frozen Four. Second-team West selections Mason Jobst, an Ohio State forward, and Minnesota State defenseman Daniel Brickley round out the returners.