AROUND THE SHIELD — There's plenty of uncertainty around college football as universities struggle under the weight of the novel coronavirus pandemic.
But in the professional game, there are fewer questions: The NFL is playing — or at least practicing, for now.
That includes former Utah quarterback Alex Smith.
Smith returned to the Washington Football Team this week for preseason training camp after nearly two years removed from a devastating leg injury that threatened his football career — and his life.
But the University of Utah product was back on the field in Ashburn, Virginia, slinging passes in 7-on-7 workouts and sporting a leg-length sleeve and brace to protect his right leg that suffered a broken fibula and tibia when it bent the wrong direction on Nov. 18, 2018.
There were times when Smith didn't know if he'd be back. There were even times when doctors told him he'd be lucky to walk again. Smith and his wife Elizabeth even chronicled a bout with a deadly viral infection in an ESPN special report called "Project 11" that aired in May, when Alex announced his intentions to try to return to the NFL.
"When you're in the hospital and you're wheelchair-bound and I'm in a walker, you build up a lot of walls in your head as far as what you'll ever be able to do again," Smith told the media after Wednesday's practice. "This is it. This is the big giant one at the end: to see if I can go play quarterback again."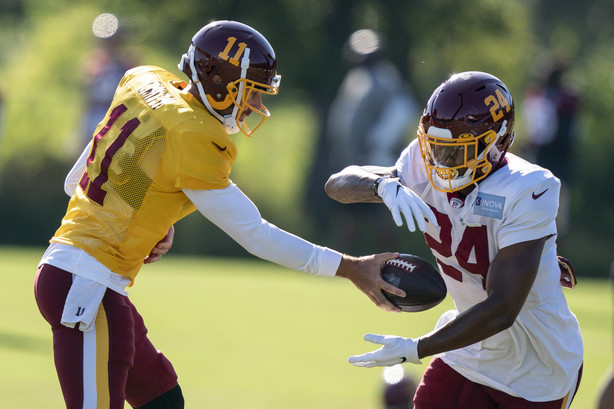 Washington coach Ron Rivera is keeping Smith's readjustment to football as easy as possible. There's a big difference between throwing drills to 7-on-7s to tackling, not to mention full-speed 11-on-11 football.
In addition to Smith, Washington is also carrying Dwayne Haskins Jr., Steven Montez, and Kyle Allen at quarterback.
If the former Utah star isn't ready, there will be no rush to bring him back, Rivera said.
"The biggest thing is you have to be able to protect yourself," Rivera said. "You've got to be able to show us that you can protect yourself."
Just 21 months after an injury that reminded many of Joe Theismann's career-ending injury in 1985, the 36-year-old Smith is ready to try again. It's not a decision he or his family took lightly.
But it's also part of what kept him going through seemingly endless rehab and surgery for a misshapen leg blackened in parts by necrotic tissue.
"It took a long, long time before I could even look at my leg," he said, while also saying he's now eager to prove to himself that a comeback is possible.
"It'd be like running a marathon and getting close to the end of the race," Smith added. "That competitiveness kicks in, and I want to see if I can do it."
'Tay-meis' and Francis from Big D to the Big Easy
Former BYU quarterback Taysom Hill drew headlines when he signed a contract extension with the Saints worth up to $21 million, and he's still competing with Jameis Winston for the No. 2 spot behind 41-year-old New Orleans signal-caller Drew Brees, who mistakenly referred to his backup tandem as "Tay-meis" on Wednesday.
For Hill, the designation may not matter; he'll still likely be used in his role as a part-time tight end/receiver/running back/special teams ace, in addition to wildcat quarterback, with the Saints.
Taysom + Tommy 🔪👀@T_Hill4 x @TMS_II | #SaintsCamppic.twitter.com/Wlea39bOon

— New Orleans Saints (@Saints) August 19, 2020
But as a passer, Hill can do plenty of that, too — as he showed with a pinpoint pass to rookie Tommy Stevens, the former Mississippi State quarterback who many called "Taysom Junior" when New Orleans selected him in the seventh round of the NFL Draft in April.
Another undrafted free agent standout who is enjoying his first week of training camp is former Utah linebacker Francis Bernard. The one-time Herriman High and BYU standout celebrated two interceptions during the Cowboys' fourth day of training camp at The Star in Frisco, Texas, which won't hurt his chances of making Dallas' final roster.
Here's one more impactful rookie: former Utah cornerback Jaylon Johnson. The former first-team All-Pac-12 defensive back and second-round draft pick could start for Chicago after the Bears lost starting cornerback Artie Burns to a knee injury.
Johnson had 102 tackles, 21 passes defended and seven interceptions in his three seasons with the Utes.
#CowboysCamp practice #4 ✔️

📷 https://t.co/TTPBqlNFwhpic.twitter.com/BVaK0kNizG

— Dallas Cowboys (@dallascowboys) August 19, 2020
Locals on the waiver wire
Former Layton High receiver Marcus Kemp is back with the Chiefs after signing Wednesday. The 25-year-old Kemp, who played collegiately at Hawaii, signed with Kansas City as an undrafted free agent in 2017 and spent time on the Chiefs' practice squad in ensuing years, including during last year's Super Bowl run.
He wasted little time making an immediate impact in camp, too.
.@MarcusDKemp at practice today 👏 pic.twitter.com/a6LLHGZsrQ

— Kansas City Chiefs (@Chiefs) August 19, 2020
Former Weber State tight end Andrew Vollert signed with the Carolina Panthers on Sunday. Vollert was waived by the Chargers on Aug. 2.
It wasn't all good news on the transaction list, though. Former BYU wide receiver Aleva Hifo was waived by Kansas City for the second time in his rookie preseason.
Hifo was waived off the Chiefs' reserve/COVID-19 list back on Aug. 1, but re-signed this past Sunday, Aug. 16. He also reportedly had a tryout with the Arizona Cardinals in between those dates.
In other August cuts, former Utah cornerback Brian Allen was waived by the Seahawks on Aug. 11, recent Utah State graduate Caleb Repp was waived by the Atlanta Falcons on Aug. 3, and former Aggie wide receiver Siaosi Mariner was waived Aug. 1 by the Las Vegas Raiders.
×
Photos
Related Links
More stories you may be interested in