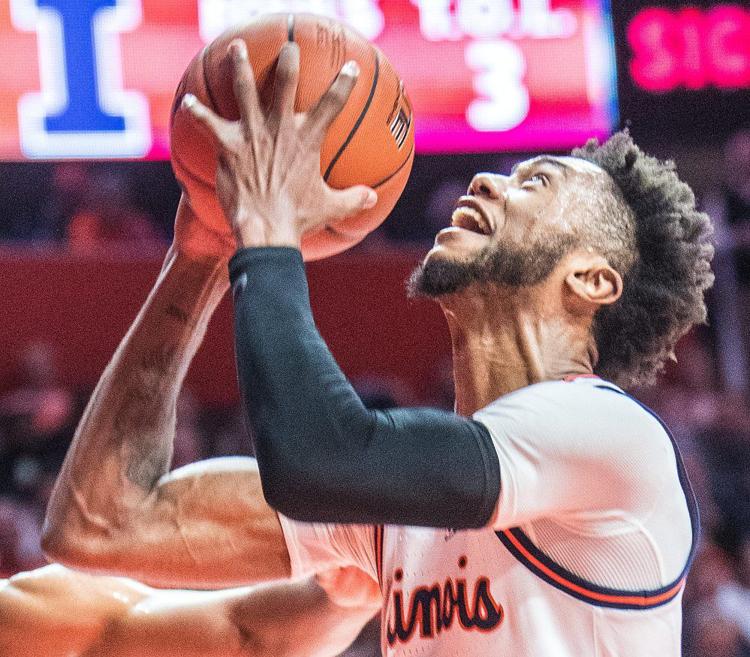 CHAMPAIGN — The beginnings of Alan Griffin's breakout sophomore season were rooted in his offseason.
Griffin opted to stay in Champaign last May with Illinois men's basketball teammate/roommate Ayo Dosunmu. The duo took another class between the end of their freshmen season and the start of summer workouts so they could remain on campus. 
That meant more time with strength and conditioning coach Adam Fletcher and more time working on improving their games on the court.
Illinois' extra practices leading up to its foreign tour gave Griffin the same kind of boost. He ultimately challenged Dosunmu as the Illini's best player during their trip to Italy. 
The extra work paid off during the 2019-20 season. Griffin's playing time increased, his production did the same and the 6-foot-5, 195-pound guard wound up as arguably the most improved player on the Illinois roster.
How Griffin will build on a breakout sophomore season is now up to another team, another coaching staff. 
The Ossining, N.Y., native announced his intent to enter the transfer portal Tuesday evening — a surprise move after he played a key role in Illinois improving from a 21-loss team his freshman season to a 21-win team this year.
"Illini nation, I first want to start off by saying thank you (for) welcoming me with open arms and supporting me through the years," Griffin posted to Twitter on Tuesday. "I also want to thank the university, my teammates, the coaching staff and all of the staff. After careful thought and consideration, I have decided to enter my name in the transfer portal. I wish all of the upcoming and current players and the coaching staff best of luck next season! Please respect my decision."
pic.twitter.com/dzbPil5U1r

— Alan Griffin (@alangriffin_) March 24, 2020
Griffin played in 28 of 31 games during the 2019-20 season, making one start in Illinois' 72-57 road loss at Rutgers. He missed the Illini's game against Division II Lindenwood on Nov. 26 after arriving late to shootaround, and he missed two Big Ten games — at Michigan on Jan. 25 and home against Minnesota on Jan. 30 — serving a conference-mandated, two-game suspension after stepping on Purdue guard Sasha Stefanovic the game prior.
Griffin finished his sophomore season averaging 8.9 points and 4.5 rebounds to rank fifth and fourth on the team, respectively, in those statistical categories. Griffin was the top three-point shooter on the team and the only Illini to shoot better than 40 percent (41.6) from beyond the arc for the season.
Griffin's best performance of the year came in Illinois' 74-66 win at Northwestern on Feb. 27. He shot 9 of 11 from the field overall, including a 6 of 8 mark from three-point range, and scored a career-high 24 points. 
Griffin's rebounding was one of the main reasons his playing time increased from 8.1 minutes per game as a freshman to 18 minutes per game as a sophomore.
"From my freshman year, I learned a lot," Griffin told The News-Gazette last June. "You've got to play hard every possession or you're going to look bad out there. You can't take a play off. You've really got to lock in and listen to coach — execute and do all the little things to stay in the game. If your shot's not going, you've got to impact the game by rebounding and playing defense."
Griffin's decision to transfer means Illinois will now have to replace at least three players from the shortened rotation coach Brad Underwood used in 2019-20, as both Andres Feliz and Kipper Nichols are graduating. That number could grow to four if Dosunmu opts to pursue professional basketball opportunities. 
The Illini do have help on the way on the wing, however. Juniors Austin Hutcherson and Jacob Grandison will become eligible in 2020-21 after sitting out this season following transfers from Wesleyan (Conn.) University and Holy Cross, respectively. The Illinois backcourt as a whole is getting a boost from incoming freshmen Adam Miller, who now has an available scholarship to sign after committing in November, and Andre Curbelo.