CLEMSON — Some 72,000 fans bought tickets for the Carolina Panthers' preseason matchup with the Houston Texans at Bank of America Stadium on Wednesday night — thousands of them filing through the streets of downtown Charlotte to catch a glimpse of football once again.
But the biggest tailgate might have been 135 miles to the south.
Equipped with an outdoor blow-up television, an indoor flat screen in the Clemson team dining facility and enough food to feed 100-plus hungry football players, the Tigers all gathered after practice to take the game in together on campus as Deshaun Watson made his highly-anticipated NFL debut.
Players and coaches cheered when Watson completed his first NFL pass, then rooted on Carlos Watkins when he made his debut and were thrilled when Ben Boulware popped up on their television screen for playing time. They also kept an eye on D.J. Reader and DeAndre Hopkins, two former Tigers already established in the league.
"Our facility allows us to do a lot of things. We've got a big blowup TV, so we blew it up and kind of had like a drive-in theater. The weather was unbelievable," Dabo Swinney said. "It was just a sure-enough cookout. They had chips and dip and (Clemson chef Donna McClain) made a few of us some corndogs.
"Our families, we don't get to see them a lot this time of year in camp. All of our families were here and we were just able to sit down and hang out with some players and watch some ball. Those guys take a lot of pride in watching their teammates."
Watson entered the game in the second quarter and immediately completed his first professional pass on a six-yarder to tight end RaShaun Allen.
Clemson co-offensive coordinator Jeff Scott said that as soon as Watson's pass was complete, the Clemson party got louder as the players watched the entire first half together before bed.
Evaluating Watson from a coach's perspective, Scott was pleased with what he saw from his former quarterback.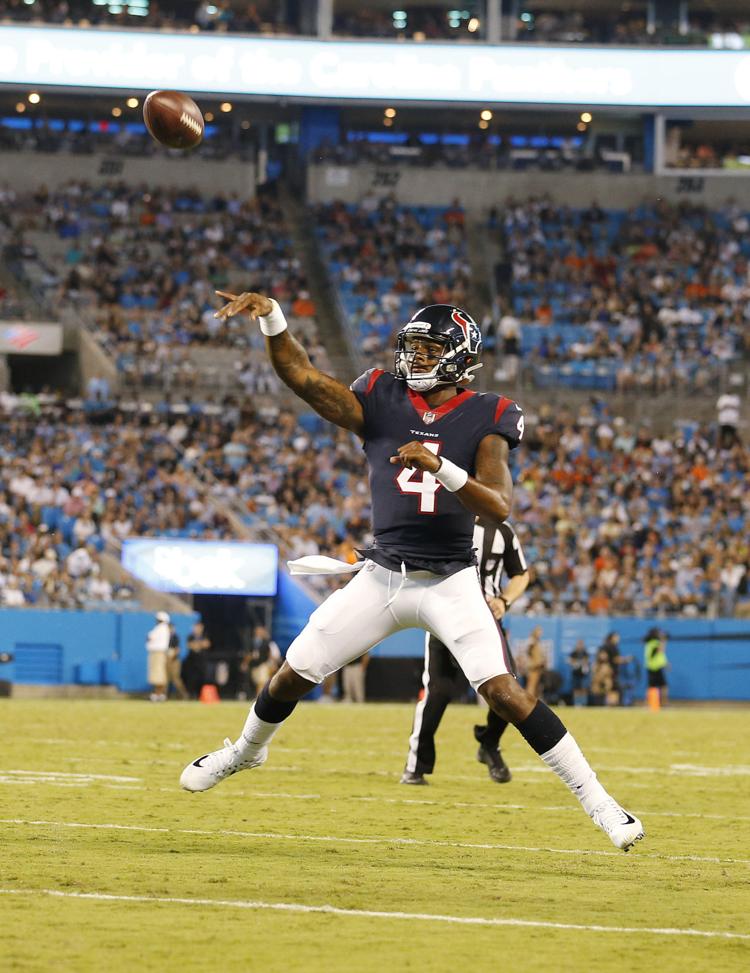 "The biggest thing I took away from it was he looked very natural," Scott said. "It didn't look like the moment was too big for him, but he's only going to get better. That was very encouraging to me."
Watson finished the night with his first professional touchdown — a 15-yard scamper in the third quarter — and a game-high 179 passing yards. He completed 15 of his 25 passes, tossed no interceptions and impressed Texans coaches with his decision making.
The most decorated player in Clemson history, Watson had droves of Tigers fans in Charlotte to support him. But outside of his family and close friends, no one seemed more excited for the national championship quarterback than his former coaches and teammates.
"I can remember when Deshaun was a freshman, a sophomore in high school. I can remember him going out in his first starts in high school and just, the stage not being too big for him," Scott said. "I can remember him as a true freshman against Georgia coming off the bench and the very first drive, going and leading us to a touchdown.
"It was really neat to see that final thing — his debut on an NFL field."
Follow Grace Raynor on Twitter @gmraynor