For years, the University of Wisconsin men's hockey team's closest geographical rival has been merely an occasional on-ice foe, off in a different league.
There was a time, however, when Notre Dame and the Badgers had the makings of a real rivalry, and some think that could be around the corner again for the teams.
The fourth-ranked Fighting Irish and No. 12 UW play a league game for the first time since 1981 when they open a Big Ten Conference series tonight at the Kohl Center.
Nearly 37 years ago, the series between the teams stalled when Notre Dame left the Western Collegiate Hockey Association after 10 seasons when the Irish and the Badgers got to be quite familiar with each other.
With Notre Dame now a part of the Big Ten hockey league as an affiliate member and both the Irish and Badgers trending upward as programs, some of the pieces are there for a rivalry to form.
Competitive and scrappy games could provide a push toward what some former Badgers players described as existing between the teams for a period in the 1970s.
"During the '70s, it was a budding rivalry," said Steve Alley, a forward who played for UW from 1972 to 1977 with a year off for the 1976 Olympics. "Not to the extent that we had with Minnesota and North Dakota. But it was rivaling that because they were good. And they were a team to be reckoned with."
So is this year's Fighting Irish team, which comes to the Kohl Center on an 11-game winning streak and 8-0 in the Big Ten.
Historically, however, any momentum toward the teams forming the kind of series that would be as anticipated as those between UW and Minnesota or North Dakota has been short-lived.
The Badgers and the Fighting Irish have played only 10 times since Notre Dame left the WCHA, most recently in October 2007.
Notre Dame hasn't been to the Kohl Center since 2004. UW has never played in the Irish's Compton Family Ice Arena, which opened in 2011.
'It was a war'
Badgers coach Tony Granato looked back on side visits to the Dane County Coliseum for Badgers games against Notre Dame during his trips to Madison while playing for the Chicago-area Huskies hockey team in the late 1970s.
While it was UW that captured Granato's attention at a young age, he picked the name of Greg Meredith, an Irish captain and All-American, from his memory banks.
"I remember it well," he said. "And I think as soon as we get them in our building, people will remember the battles and the intensity and the competition that we'll see moving forward between the two schools."
When they did play regularly as WCHA opponents from 1971 to 1981, UW most often was the winner, with a 28-12-4 record.
Minnesota coach Don Lucia, who played for Notre Dame from 1977 to 1981, remembered the Dane County Coliseum as a "house of horrors" for the Irish.
"I don't know how many games we won … but I don't think we had a lot of luck (against UW)," he said.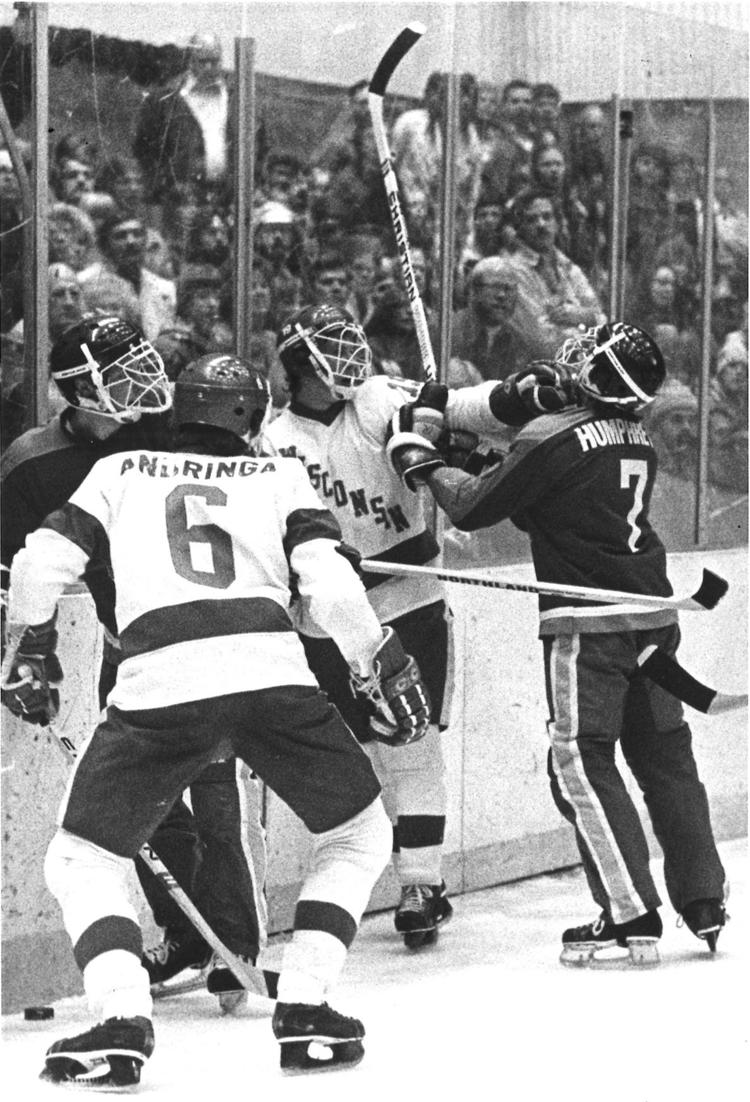 When Notre Dame was at its peak, however, the games it played with the Badgers carried major intensity.
"It was a war," said Ian Perrin, who played defense for UW from 1974 to 1979 and now is one of the team's radio broadcasters.
His recruiting trip to UW in 1974 brought him to a Badgers-Irish game, and he said the heavy-hitting series made him want to play in Madison.
The games matched a pair of Twin Cities natives behind the benches: UW's Bob Johnson, from Minneapolis, and Notre Dame's Charles "Lefty" Smith, from South St. Paul.
"I always sort of thought there was some animosity there between Lefty and Bob that sort of fueled things," said David McNab, a UW goalie from 1973 to 1978 who now is senior vice president of hockey operations for the NHL's Anaheim Ducks.
"There was a rivalry between the coaches that always fueled it, as there was back in that era."
On the ice, McNab's recollection was that there wasn't the bitterness that traditionally makes something a rivalry, perhaps because the teams didn't have many high-stakes games.
The ones that they did have with postseason implications were memorable, however.
Playoff series stands out
UW's road to its first national championship in 1973 went through Notre Dame and a dramatic WCHA playoff series that determined which team would make it to the four-team NCAA tournament the next week in Boston.
In those days, the WCHA postseason played down only to a final two teams that represented the league in the national semifinals against two from the East.
The teams had split four regular-season games, with UW winning twice in Madison in December and Notre Dame taking over second place with a February sweep in South Bend.
Each enjoyed a comfortable first-round series victory, UW's over Minnesota and Notre Dame's over North Dakota.
There was nothing easy about the March 9-10 total-goals series at the rink tucked into one side of what then was known as the Athletic and Convocation Center at Notre Dame.
Alley called it the most hotly contested playoff series he played in with the Badgers, with the pendulum of momentum swinging from one side to the other.
UW scored twice in less than three minutes in the second period of Game 1 for a two-goal lead, but the Irish erased it. A Dave Pay goal in the third period for the Badgers was negated by an Ian Williams score, and the teams finished the first day tied, 4-4.
On the second night, the Badgers took three one-goal leads, only to have Notre Dame respond each time.
In the third period, Gary Winchester drove up the ice on a power play and circled around the net, finding Pay alone in front of the net for a shot to the top left corner of the net to put UW ahead 4-3 with 3:10 remaining.
It wouldn't have happened without the contentious Notre Dame series, after which John Noble, the enraged Irish player who was in the penalty box for cross-checking during Pay's game-winning goal, reportedly chased after referee Don "Red" Wilkie.
"It was that tight of a series," Alley said. "It was great hockey. They had a great hockey team. We were very fortunate to beat them. Because if they had won, I think they would have won the NCAA championship."
Splitting of fortunes?
A crowd reported at more than 500 at the Madison airport welcomed the Badgers back late on the Saturday night.
One of those who watched on TV in Madison that night was George Gwozdecky, who had transferred to the Badgers but wasn't yet eligible to play.
Gwozdecky, who went on to a 27-year college head coaching career that included two national championships at Denver, said he has thought about whether that series represented a splitting of the fortunes for the programs.
Under Johnson, UW also won NCAA titles in 1977 and 1981. It added championships in 1983, 1990 and 2006.
Notre Dame didn't make the NCAA tournament for the first time until 2004. The Irish have been to the Frozen Four three times in the last 10 years, including last season in Chicago, but haven't won a championship.
In 1983, the school dropped hockey as a varsity sport, citing financial losses and waning fan support. It was reinstated for the 1984-85 season, but as an independent with no scholarships. It took until 1992 for Notre Dame to return to the Central Collegiate Hockey Association.
"If they get past Wisconsin, Notre Dame goes to the Final Four, who knows what happens," Gwozdecky said. "I've always thought about that. Notre Dame went downhill from that point on, and Wisconsin just continued to go up and up and up."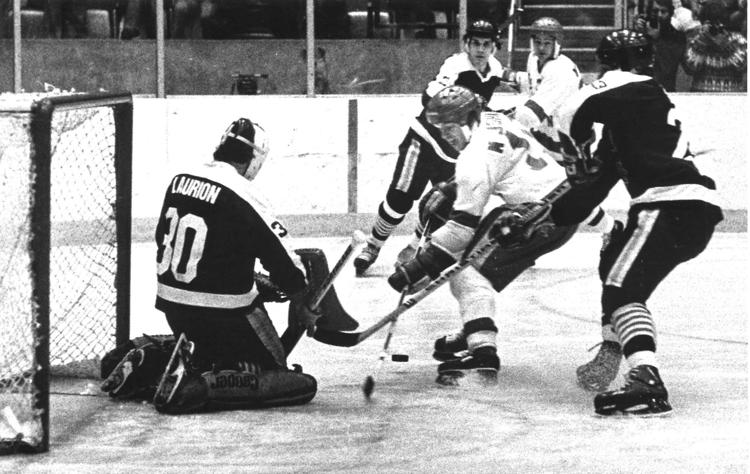 These days, 13th-year coach Jeff Jackson has the Irish among the country's top teams, with four NCAA appearances in the last five seasons.
The upward trending of the Irish and Badgers programs, a guaranteed four games against each other each season and their relative proximity — at 240 miles away, Notre Dame has the closest Division I men's hockey team to Madison — could provide the spark for a rivalry this time.
The teams have agreed to a contract to play one of their Big Ten games at Chicago's United Center over the next two seasons. A Notre Dame home game will move there on Sunday, Jan. 21, while a UW home game will go to Chicago in the 2018-19 season.
The brand recognition with Notre Dame was a key addition for the Big Ten, Granato said, and the way the Irish have played this season has made the league better on the ice.
In their 8-0 Big Ten start, they have outscored opponents 24-9. That has materialized despite the Irish losing their two best players from last season's Frozen Four run — forward Anders Bjork of Mequon and goaltender Cal Petersen — to pro signings.
Sophomore Cale Morris has been stellar in net, with four shutouts in his last seven games.
"I think it's pretty special to have them in our conference," Granato said. "I think it's win-win for everybody. I think it's great for college hockey. When you add a top-five team to your conference and you already feel like you have four that could make the (NCAA) tournament at the start of the year … it's going to be a battle all the way through to see who can get those seeds."